The Journal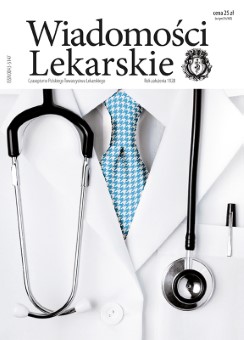 "Wiadomości Lekarskie Medical Advances" is an official journal of the Polish Medical Association published since 1928. The Editor-in-Chief is Prof. Władysław Pierzchała, MD, Dr habil.
"Wiadomości Lekarskie Medical Advances" plays an important role of a scientific journal and an educational platform for young doctors. The journal is popular among authors and readers due to its interdisciplinary nature.
The articles published in the monthly include original papers, review papers, and case studies. All papers are reviewed. The journal has been cooperating with new authors and reviewers, including foreign specialists, and publishing papers mainly in English. It provides media patronage for many scientific conferences organised by training companies. as well as medical associations. Moreover, it offers doctors working abroad a platform for the exchange of experience.
Wiadomości Lekarskie cited by PUBMED/MEDLINE, SCOPUS, INDEX COPERNICUS, EBSCO, POLISH MEDICAL BIBLIOGRAPHY, Ministry of Science and Higher Education.
---
Licence
Articles published on-line and available in open access are published under Creative Common Attribution – Non Commercial-No Derivatives 4.0 International (CC BY-NC-ND 4.0) allowing to download articles and share them with others as long as they credit the authors and the publisher, but without permission to change them in any way or use them commercially.
Rules and Guidelines